Background Stories, Interesting Facts and Announcements
Protogrid is alive and kicking. In this blog, our innovative engineers and creative graphic designers share their stories, anecdotes as well as useful tipps and tricks.
Sonja Blum on 2018-10-05
"Low code" refers to development environments in which applications can be created with "little code". In concrete terms, this means that an app can be largely or completely defined using visual elements instead of programming code. Instead of defining and implementing the data model using the ER model ("entity relationship model") in SQL, individual data sets can be linked intuitively using links. The data model and the databases are then automatically adapted accordingly, without the developer having to worry about it further. For the user interface, input fields can be clicked together and buttons with various actions can be stored. This is the vision of low-code development.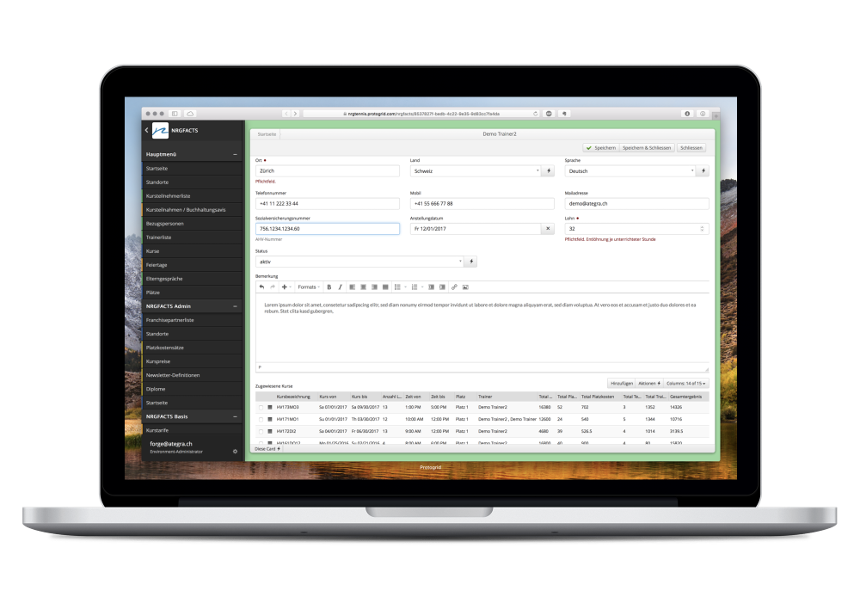 Low code pursues the following goals: Simple development, agile adaptation, mobile access, automatic software distribution and simple maintainability. These goals bring several advantages:
Thanks to a simple development the costs decrease - not only because de development process is faster, but also, because mostly also the end users can contribute a part to the development.
Thanks to agile adaptations, applications can be used more quickly and productively - if an unexpected additional requirement arises later or even the model changes, the application can simply be changed again afterwards.
New workplace forms can be created through mobile access - for example, home office becomes possible, which in turn motivates your own employees and promotes their efficiency.
The internal IT is relieved by means of automatic software distribution - new resources become available and strategic projects can be tackled.
The simple maintainability reduces the operating costs ("total cost of ownership") and extends the operating time ("application life cycle") - since a low-code application no longer consists of several thousand lines of code, a quick familiarization is possible at any time and the application can be easily maintained over many years.
But does this promise stand up to a meeting with reality? With our low-code platform Protogrid, we have implemented a medium-complex application. We recorded this development and compared it with a conventional development. In order to make a fair comparison, we performed a
function point analysis
. The customer requirements resulted in 3450 function points.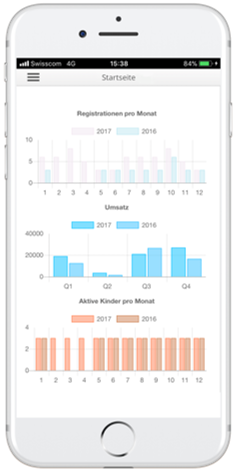 If one now converts these function points into person months for a conventional Java development, one receives 18.8 months, i.e. about 500,000 Swiss francs. The project actually implemented with Protogrid came to 2.6 person months or 70,000 Swiss francs thanks to low code. This corresponds to just 14% of Java development!
But are such investments really worthwhile in the end? Just because something is fast and cheap now doesn't mean you have to buy everything, does it? In another development project with Protogrid, we did a return on investment analysis. The aim was to optimise the order workflow in sales. The assumption was that 50 users would process 5 cases per day, which would save you 5 minutes per case with the new solution. These 5 minutes per case are even very tightly calculated: Here an address from the address directory search, there a Mail search, then finding the current version of a flyer, etc.
However, all these small savings add up to 5208 hours per year. With a value added per employee and hour of 50 Swiss francs, this would correspond to about 260,400 Swiss francs. After deduction of operating costs, there is still a considerable net profit of CHF 257,777. Amazing how productivity can only be increased by introducing a small, useful application, isn't it? With a low-code typical development price of CHF 7,737, the ROI is 0.03 years, i.e. 0.36 months, or less than 11 days. After less than 2 weeks, the investment has already amortized and you start saving. Do you remember what they worked on the week before last?
Are you interested and would like to know which savings are possible with low-code in your company? Then
contact us today
and we will analyze the potential together.
Sonja Blum on 2018-08-17
We are pleased to announce the latest version of Protogrid: Version 1.7 is available!
Thanks to this new version of Protogrid life at work will be even easier: There is a new chat function with which you can reach us personally at any time. So you can pass through your ideas and wishes for your app and immediately receive actionable answers anytime. Thanks to this new offering, based on
Drift
, you can develop a Protogrid App in just 30 minutes which saves you 30 minutes every day from then on.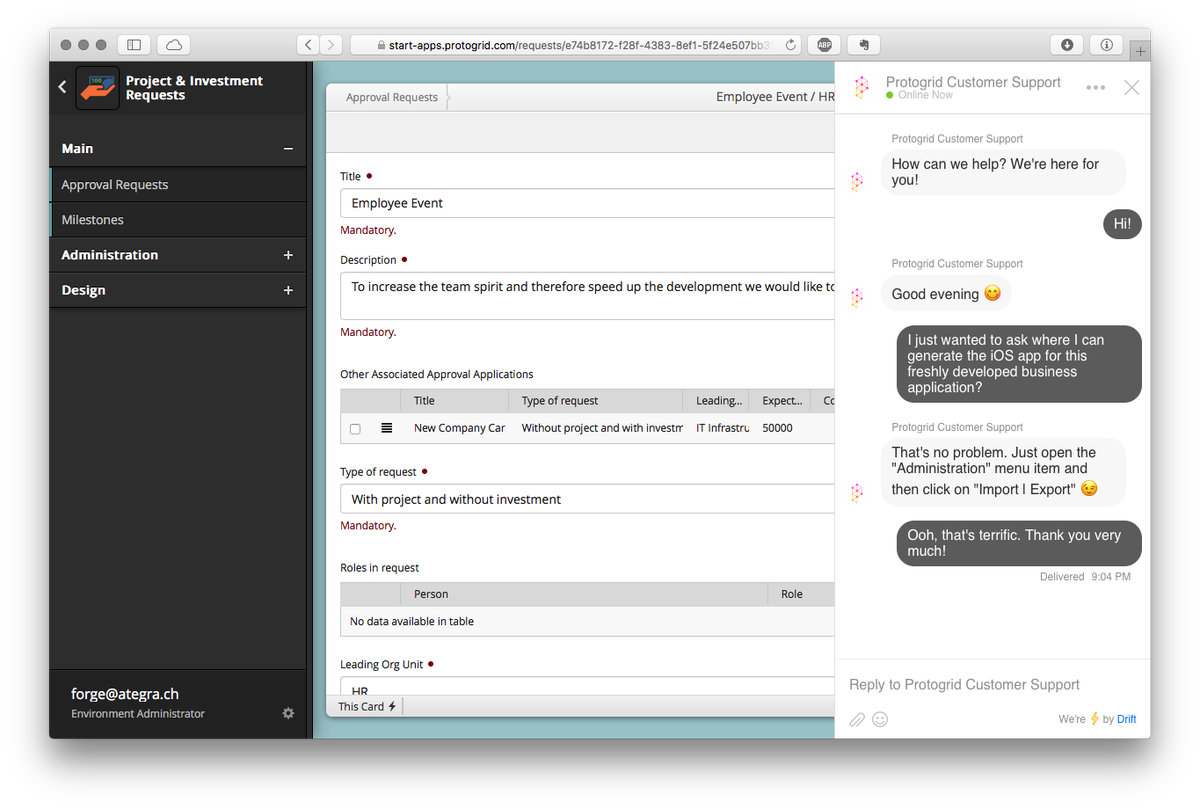 Besides the new chat function, version 1.7 also offers improvements in the search area:
It is now possible to seamlessly search in views with active filters. This is useful, for example, if you want to find a specific appointment in the overview of all appointments for the next week.
Now you can sort views also by relation fields. For example, you can sort the dates according to the rooms booked. This includes not only the name of the room, but also its capacity, the address and an overview of past bookings.
In addition, you can now define the sorting of special cards yourself by adjusting the "get_sorting_string()" function in the ServerScript Library of the corresponding Proto.
In addition, many other optimizations were carried out. Especially the speed of all Environments could be improved by moving most of the actions into the background.
Are you curious? Or are you always too busy to tackle the really important things? Then enter your existing Protogrid Environment now or
register your own new Protogrid Environment
.
If you have any questions or requests, please do not hesitate to contact us
via mail
or chat 😋
Sonja Blum on 2018-05-18
We are happy to announce that Protogrid Version 1.5 and 1.6 were rolled out in the first half of this year. There were lots of small changes and improvements, together with some larger extensions of functionality.
It is now possible to hide elements such as warnings or advanced actions! You might want to hide them in order to not confuse less experienced users or make it harder to perform some thoughtless actions.

To hide some specific elements, all you need to do is creating a new client Script Library and link it to your Default Card. You find all information in our
Wiki
. Additionally, the following extensions might be interesting for you:
Larger views and more entries in lists let you work even faster
API-requests were optimized to reduce latency
Servers are used more efficiently thanks to optimized architecture
You can now also find related cards when searching
Try the new functionality now in your Protogrid Environment and increase your benefits.
If you have any questions or wishes, do not hesitate to
contact us
.